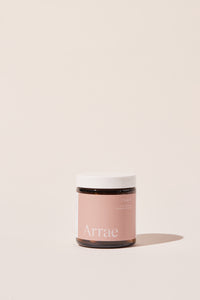 Our Calm Alchemy Capsules are a blend of 4 herbs, minerals and vitamins which help relax the body and mind. They don't come with the unpleasant side effects that can often be a deterrent, and can be taken at any point during the day, whenever you feel like you need to chill out a little. Together, the ingredients promote a state of calm by relaxing muscles, releasing tension, increasing calming chemical messengers in the brain and slowing down spiraling thoughts.
How to use
Take 2-3 Calm Alchemy Capsules whenever you're feeling anxious. This can be during the day at work or at night for a restful, uninterrupted sleep
Nut free, Non-habit forming, Gluten free Laxative-free, Non-GMO              Vegan, Cruelty free, Filler free
Ingredients
L-Theanine •
Passion Flower •
Inositol •
Ingredients: Inositol, Proprietary Blend: Magnesium Biglycinate, L-Theanine, Passion Flower.
Serving Size: 2 Vegetable Capsules.
Servings Per Container: 22.
Inactive Ingredients: Cellulose (Vegetable Capsule).
Nut free, Non-Habit forming, Gluten free Laxative-free, Non-GMO, Vegan, Cruelty free, Filler free