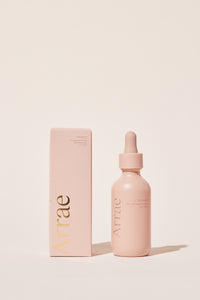 Gut Boost is our gut-friendly take on the age-old tradition of digestive bitters. When we see, smell, or even just imagine food, our salivary glands become activated. But in our busy lives, these sensory cues are often missed. Gut Boost will stimulate your bitter taste buds in order to signal your digestive system to start, before you even take your first bite.
How to use
- Gut Boost contains a blend of 7 ingredients which work synergistically to prime your digestive system before meals.
- The blend of bitter herbs helps to stimulate saliva production and digestive juice secretion, so your gut is in top form to digest meals and absorb nutrients.
- Gut Boost will help to balance your appetite, reduce inflammation in the gut, and be preventative when it comes to bloating after meals.
- Just add 1 dropper to a quarter cup of water, or to taste, 10-20 minutes before your meals to stimulate digestive juices and prime your digestive system.
Bitter Orange Peel •
Mugwort Flowers •
Ginger Root •
Gentian Root, Bitter Orange Peel, Rhubarb Root, Mugwort Flowers, Artichoke Leaf, Ginger Root, Natural Blood Orange Flavor.
Nut free, Non-Habit forming, Gluten free Laxative-free, Non-GMO, Vegan, Cruelty free, Filler free