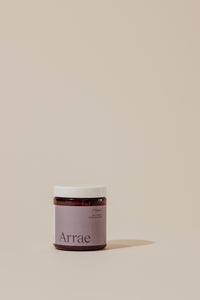 Our Sleep Alchemy Capsules are a melatonin-free blend which help regulate your body's natural sleep cycle. Our circadian rhythms ensure that the body's processes are optimized during a 24 hour period, and a regulated circadian rhythm results in optimized digestion, elevated mood and productivity and lower stress levels
How to use
- Sleep contains a blend of 4 herbs and a neurotransmitter which were carefully chosen to promote deep sleep.
- Take 2-3 Sleep Alchemy Capsules when you're getting ready to catch some z's. - The natural blend will help you drift off into a peaceful sleep while regulating your sleep cycle.
- Take around 8 hours before your morning alarm, so you wake up feeling recharged and ready for the day.
- Designed to be taken as needed.
CHAMOMILE •
VALERIAN ROOT •
GABA •
Gaba, Chamomile, Valerian Root, Holy Basil, Hops.
Nut free, Non-Habit forming, Gluten free Laxative-free, Non-GMO, Vegan, Cruelty free, Filler free