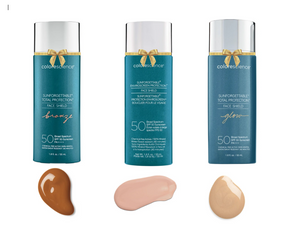 Application:
Every morning after moisturizing, and before makeup.
Face, neck and chest, as needed.
Best for:
UVA/UVB protection.
Protection from infrared radiation, blue HEV light, pollution.
The ultra-popular, dermatologist-recommended face sunscreen by Colorescience® is finally available in Canada. This sunscreen is like no other; it spreads on in a cosmetically wonderful way. But, it's also made of superior quality in terms of its protective ingredients.
Instead of only providing broad-spectrum, UVA and UVB sunblock coverage, this formulation considers very real, modern stressors on our skin: environmental pollutants and blue (HEV) light. It brings together highly-studied, backed-by-science ingredients in a product that is also safe for all skin types – including sensitive skin.
It is:
Reef-safe
Non-nano
Non-comedogenic
Hypoallergenic
Paraben-free
Cruelty-free (vegan)
Sulfate-free
Phthalate-free
Oil-free
Gluten-free
Fragrance-free
'White cast free'
Plus it is moisturizing, and offers skin-supporting benefits such as antioxidants and anti-irritants.
For those who follow sunscreen regiments religiously, this product also has a PA+++ rating for UVA protection, and is EU compliant.
Now, it's not just one product, but two (in Canada); Colorescience® has released a 'Glow' shade. It is tinted slightly more on the 'olive' side, and has more of a 'shine' to it.
Remember to shake the bottle before applying it on your skin! It is normal for sunscreens to separate.