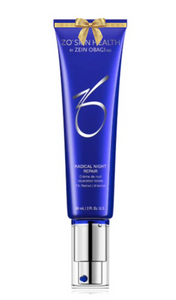 This anti-aging treatment, formulated with 1% retinol, improves texture and uneven pigmentation and diminishes fine lines and wrinkles for a more youthful skin tone.
Appropriate for aging skin with fine lines, wrinkles and sun-damaged skin.
ZO Radical Night Repair
This unique formula is designed to deliver rapid results to address the multiple signs of skin aging. It uses a patented micro delivery system to provide a slow release of high-potency retinol to maximize anti-aging benefits and minimize irritation. It also improves rough texture, reduces brown spots for a more even skin tone and helps to diminish fine lines and wrinkles.
Key Benefits of ZO Radical Night Repair
Tightens, smooths and firms skin
Helps improve skin's brightness, reduces brown spots and provides a more even tone
Provides anti-irritant benefits to help calm and soothe the skin
Provides powerful antioxidant and anti-inflammatory protection to minimize inflammation and prevent future skin aging
Works as advanced anti-aging at-home peel