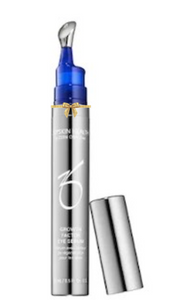 Retinol-free gel-like serum with growth factors and exclusive ZPRO® technology that targets the appearance of lines, wrinkles, eye creasing and loss of volume.
ZO Growth Factor Eye Serum
Powered by ZO Growth Factor Technology, Growth Factor Eye Serum targets the appearance of deeper eye wrinkles, crease formation, hollowness + microcirculation decline.

Cooling application soothes the skin and re-invigorates the look of tired eyes.
Key Benefits of ZO Growth Factor Eye Serum
Reduces the appearance of expression lines and eye wrinkles

Visibly improves the appearance of volume
Improves plumpness and hydration
Cooling applicator revives the look of tired eyes
Re-invigorates eye skin health + vitality
Innovative Technology
The mechanisms of action of ZO's enzymatic + plant-derived Growth Factors support the ZO philosophy of triggering the skin to repair itself through its natural restorative pathways.
Enzymatically derived: N-Acetyl glucosamine 6-phosphate (NAG6P), a naturally occurring entity in skin.
Plant-derived: Lactobacillus/Panax, Ginseng Root Extract, and Ferment Filtrate.
Pairing superior anti-aging technology with a combination of specific eye skin health restoration ingredients creates a wholistic approach in effectively addressing eye skin aging.
Superior technology: Incorporate a powerhouse multi-modal technology for fast-acting + long-term anti-aging benefits.
Adaptation for eye skin: Ensure formula addresses unique conditions of thin skin, sparse fat layer + restricted circulation around the eye area.